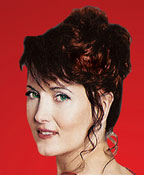 Linda Gentille, originally from Pacific Palisades California is a world renowned entertainer and conductor of The Jersey Shore Pops Orchestra in Cape May, New Jersey. As a major headline act, Gentille has performed in over 30 US states, and 20 countries. She began her career with The Liberace Show as a teenager and quickly developed her own touring show. She performed on numerous television shows and became known as an international piano superstar in China. She holds the world record for performing more concerts in China than any foreign artist.
Linda Gentille dazzles audiences around the world with her beauty, charisma and musical virtuosity. She is one of the premier interpreters of Chinese classical music. Music has always been in the family for centuries.
Linda's great grandmother, Anna Louise Deal was one of America's first female published ragtime composers. She wrote numerous ragtime compositions including "Come to Chicago" for the World Fair in 1933. Growing up in Pacific Palisades, California, Linda began her musical studies taking classes with her Father at Roger Williams' studio in Los Angeles.
When not conducting The Jersey Shore Pops, Gentille arranges music and performs with her own big band orchestra on luxury cruise lines and in performing arts centers across the United States. Gentille conducts and performs over 75 concerts each year with hundreds of different musicians nationwide. Her unique ability to adapt to various music styles from Classical to Jazz has made her a sought after concert act in performing arts centers around the world. For more information or to order CD's, please visit: